At Pure Oil New Zealand, we're committed to making a positive impact on our community. One of our brands, The Good Oil, shares this commitment, and we are proud to announce our continued support for the Breast Cancer Foundation NZ in their relentless mission to combat breast cancer and offer crucial support to those affected by it. We are grateful to our loyal customers who made it possible for us to donate over $30,000 to this vital cause in 2022.
Once again, we are delighted to introduce a limited Pink Ribbon Edition of our Extra Virgin Cold Pressed Rapeseed Oil. This special edition is now available in stores across New Zealand. Throughout the month of October, for every 1L bottle of this pink edition purchased, we will donate $1 to the Breast Cancer Foundation NZ. This campaign serves a dual purpose – it raises funds to support their important work and helps raise awareness about breast cancer, a disease that significantly impacts the lives of countless New Zealand women and their families.
Breast cancer is a significant health concern in New Zealand, with approximately 3,300 women receiving a diagnosis each year. The effects of this disease extend beyond its physical manifestations, profoundly affecting the emotional and psychological well-being of both patients and their loved ones. Over the past two decades, there has been a steady increase in the number of breast cancer diagnoses in New Zealand. This increase can largely be attributed to more extensive screening efforts and earlier detection, a testament to the tireless work of organizations like the Breast Cancer Foundation NZ.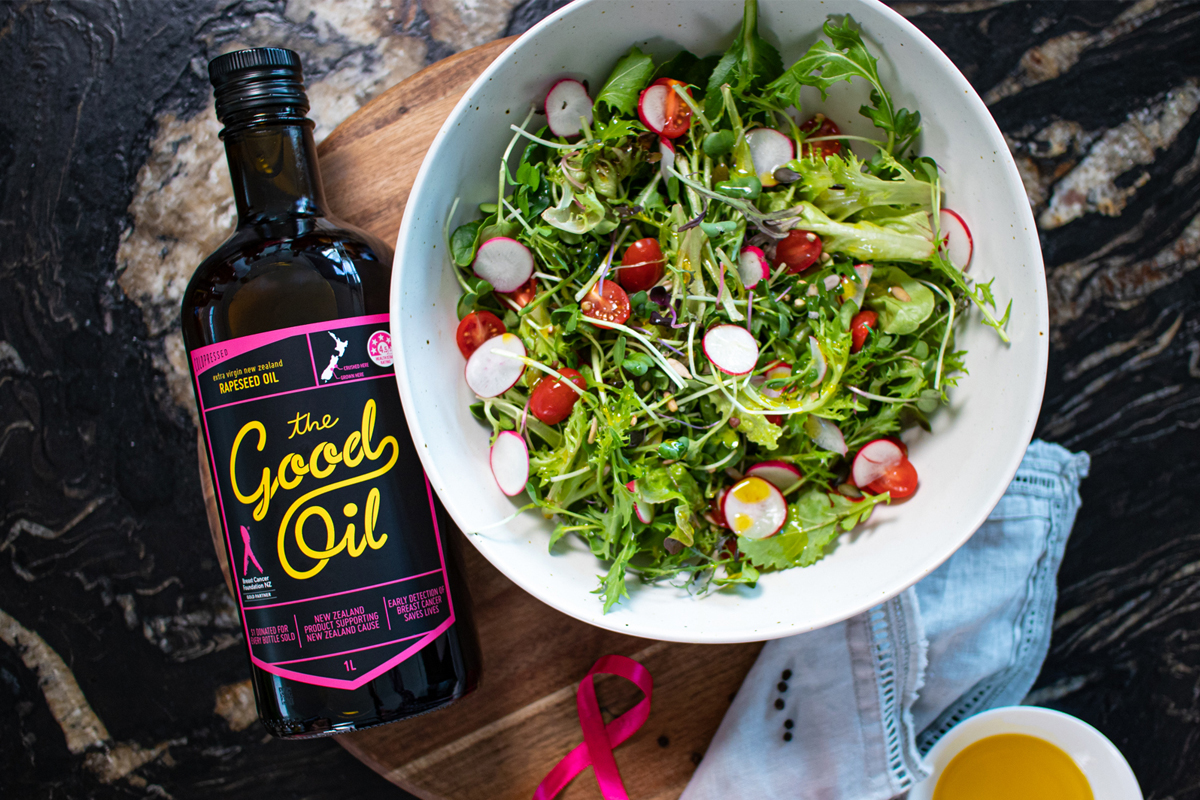 Amidst this challenging backdrop, there is a heartening statistic that shines through – a remarkable 24% decrease in fatality rates between 1995 and 2005, which have remained stable since then, even as the number of diagnoses rises. This positive trend underscores the vital importance of early detection and highlights the incredible work carried out by the Breast Cancer Foundation NZ.
The Breast Cancer Foundation NZ is dedicated to funding research, providing education, and offering support to Kiwi women confronting breast cancer. They tirelessly strive to improve early detection methods, develop better treatments, and ultimately, find a cure. By supporting their cause, we contribute to these critical efforts that have the potential to save lives and enhance the quality of life for those affected by breast cancer.
Our partnership with BCFNZ fills us with pride as it aligns perfectly with our commitment to creating a positive impact on our community. At Pure Oil New Zealand, we grow and cold-press our oil locally in the South Island. We use premium high oleic seed to craft our Extra Virgin Cold Pressed Rapeseed Oil, preserving its natural nutrition through the cold pressing process without the use of heat or chemicals. Our oil is produced with the same level of care and quality that the Breast Cancer Foundation NZ puts into their mission.
This October, we extend an invitation to you to join us in supporting this critical cause. Keep an eye out for our limited-edition Pink Ribbon Edition bottles at major supermarkets while supplies last. With each purchase, you're not just acquiring a high-quality cooking oil; you're also making a meaningful contribution to breast cancer research, education, and support.